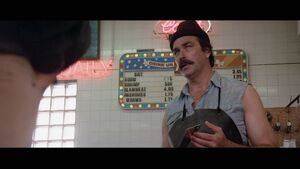 Eddie was one of Krueger's brothers in-law. He worked as a fisherman at their fish store. He and his brother Carl tried to fight Harry Callahan when he wanted to question their sister about Krueger. Harry beat them up until Mrs. Krueger pulled a gun on Harry. Later Eddie and Carl bail Mick out of jail after Harry arrested him. They accompany Mick on his killing spree and assist him in beating up Harry for revenge. Later they help Mick to rape Jennifer Spencer all over again. Harry shows up just in time and kills Eddie by shooting him to death with the auto-mag. His dead body falls on top of garbage cans.
Ad blocker interference detected!
Wikia is a free-to-use site that makes money from advertising. We have a modified experience for viewers using ad blockers

Wikia is not accessible if you've made further modifications. Remove the custom ad blocker rule(s) and the page will load as expected.