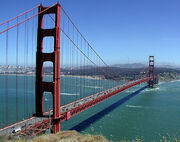 San Francisco, California is the hometown of
Harry Callahan and
the location of all the Dirty Harry films except
Sudden Impact
. San Francisco is located in Mid California by the bay. It is the 13th most populous city in the United States. It is a center of financial growth and is known for many of it's landmarks. These include the Golden Gate Bridge, the Trans-America Pyramid, and China Town. The famous former prison Alcatraz Island is located nearby. It is also known for the popular food rice-a-roni.
Ad blocker interference detected!
Wikia is a free-to-use site that makes money from advertising. We have a modified experience for viewers using ad blockers

Wikia is not accessible if you've made further modifications. Remove the custom ad blocker rule(s) and the page will load as expected.